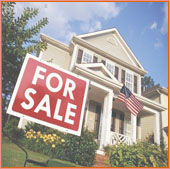 Open Houses Are Needed To Sell A Home
The third real estate myth, one that will inevitably rile up many other real estate agents, is that open houses are needed to sell a home. Open houses are NOT needed to sell a home!
Did you know that less than 5% of homes are sold as a result from an open house? There are many PROS and CONS to open houses, but the truth is there are more CONS. A home can be sold without open houses if it is priced correctly and the proper marketing is used. I always ask sellers (and other real estate agents) who believe open houses sell homes if they honestly believe a serious buyer will skip their home because it is not open. Their answer 99.9% of the time is no and that they would contact their Realtor® to schedule a private viewing.
It is simply wrong that some real estate agents convince sellers that they will sell their home because they will hold it open every weekend. Real estate agents should explain that open houses will give some additional exposure to a home but the primary purpose of open houses is for real estate agents to prospect and potentially pick up additional buyers.
Stay tuned for the number one and second myths.
The end of month and 1915 Market Statistics show that In general, there were more sales but prices went dow.
However prices by Zip codes and city are in all ranges. Odenton remain the same for year average price, yet went down for Cec
Glen Burnie went Down as a city yet Zip code 21060 went up both for the year and December.
As usual prices are very local and depend on many issues happening in a particular area.
We could say that homes are affordable and Sellers have to be realistic when setting a sale Price. For more information. Call, me text me or email me.
If you are planning to buy or sale do not delay as in most cases waiting is not going to make a significant difference and it would just delay your goals and plans.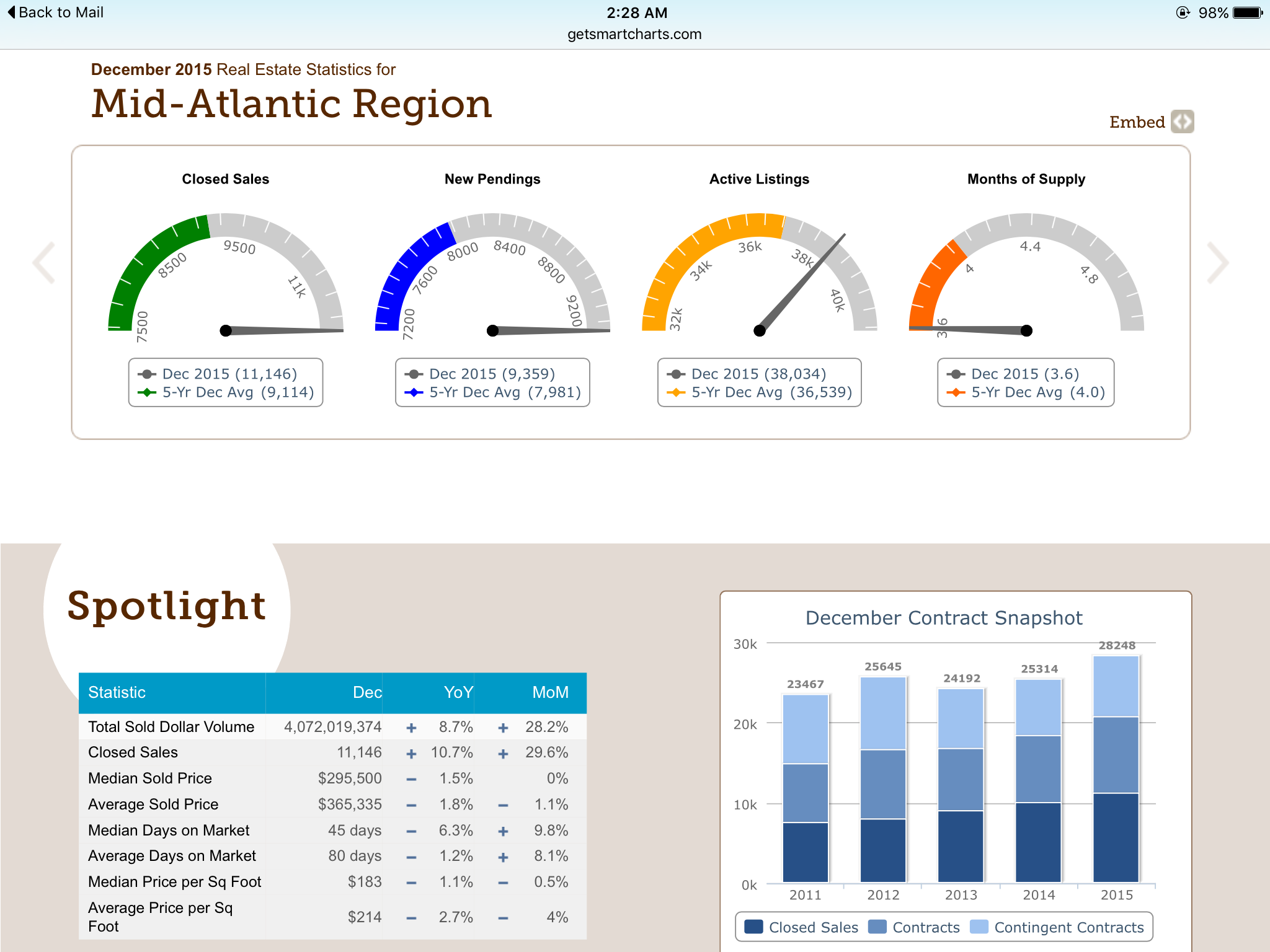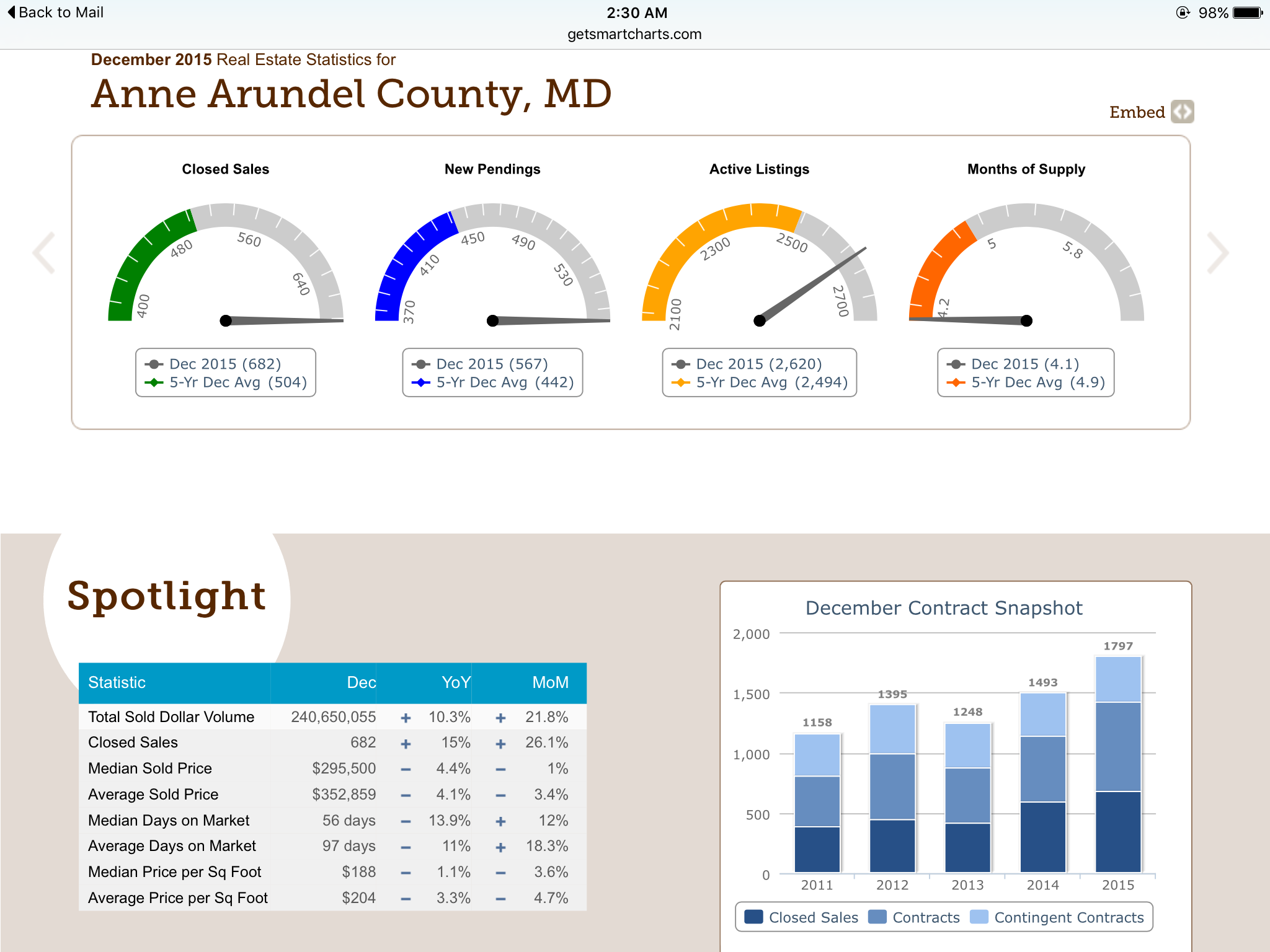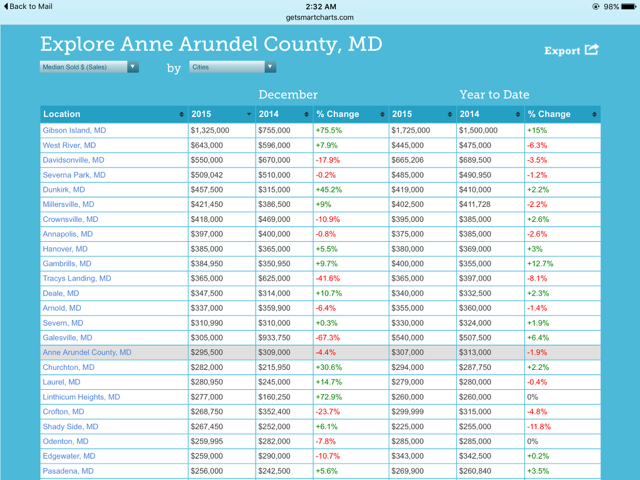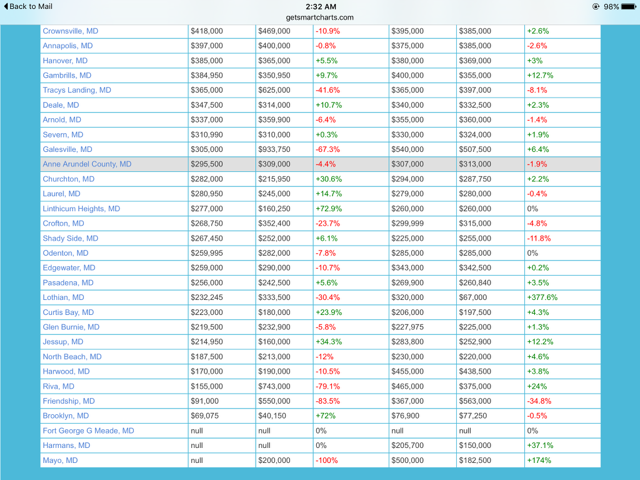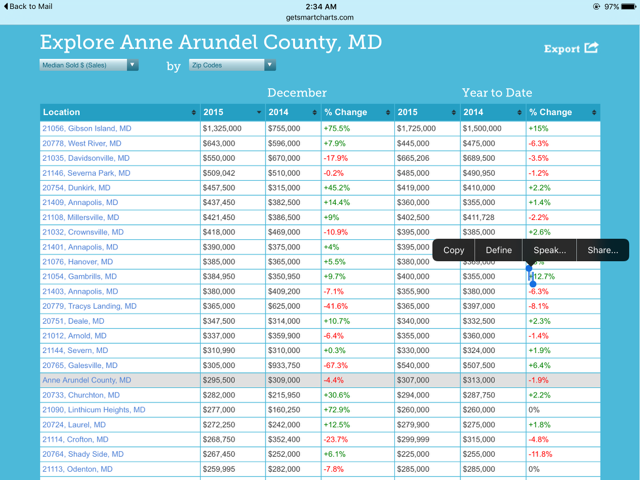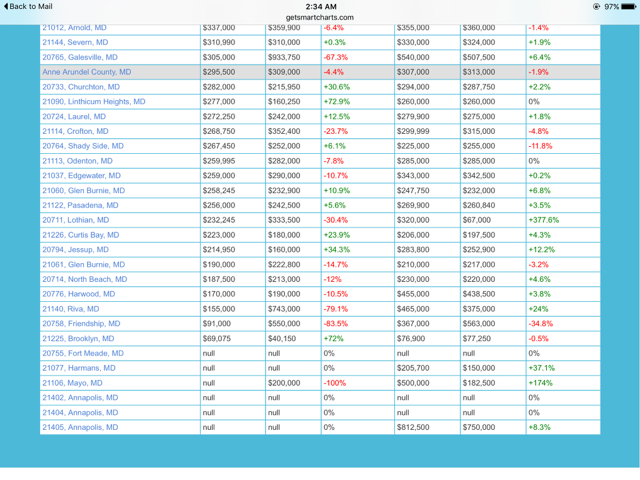 It's official: Fed raises interest rates for first time in nine years

By Brena Swanson
The Federal Open Market Committee announced in its December meeting that it is officially raising the federal funds rate for the first time since June 2006.

In a statement released Wednesday by the Federal Reserve, the FOMC said that it will gradually raise the federal funds rate to a range of 0.25% to 0.50%.

"Given the economic outlook, and recognizing the time it takes for policy actions to affect future economic outcomes, the committee decided to raise the target range for the federal funds rate to 0.25% to 0.50%. The stance of monetary policy remains accommodative after this increase, thereby supporting further improvement in labor market conditions and a return to 2% inflation," the FOMC said in a statement.

All FOMC members voted unanimously.
_________________________________________________________________________________
Possible delays in home sales Process:
According to the Appraisal Institute, the number of real estate appraisers has fallen 20% from 2007 to 78,500 earlier this year. Amy Hoak of MarketWatch says the group predicts another 3% fall each year for the next decade. This reality could mean longer waits and higher fees as more appraisers cross state lines to value properties. Longer waits also affect sellers who need the equity from one sale to purchase their next home. When they can't close on the home they're selling, they can't close on the one they're buying. A shortage also means appraisals will likely cost more, which some say is already happening in rural areas.
For more information on the appraiser shortage call me or text me 908-2407792.
_______________________________________________________________________________________
Read this If you are in the fence, buying now will give you the best rates.. Real State studies that cover 14 show October and November for the best deals for buyers. Do not miss out call me. At 410-908 or send me a text at 908-240-7792.
WASHINGTON (MarketWatch) — The Federal Reserve kept interest rates close to zero for yet another meeting but said it would focus on its "next meeting" in mid-December on whether to raise interest rates.
In new language in the statement, the Fed said it would determine "whether it will be appropriate to raise the target range at its next meeting." Previous statements have not had any time element to this statement, saying only that policymakers "would determine how long to maintain" rates close to zero.
This new language gave a lift to the U.S. dollar DXY, -0.25% and briefly put pressure on U.S. stocks SPX, -1.20% , though equities closed with strong gains by the end of the session. It also lifted the likelihood of a December rate hike in federal funds futures.
Mike Materasso, senior vice president at Franklin Templeton, said a selloff was predictable after a hawkish statement. Before the meeting, investors put a 30% chance of a rate hike in December. After the meeting, investors put just under 50% chance.
"Getting rate hikes off of zero is probably a good idea sooner rather than later," Materasso said. The Fed has been wavering about a rate hike since June and this has sent negative signals to the markets, he added.
Fed officials repeated they want to see "some" continued progress on labor markets and be "reasonably confident" inflation is rising toward their 2% annual target before hiking rates.
The Fed voted 9 to 1 to leave rates in a range between zero and 0.25% where they have been since December 2008. The lone dissenter was Richmond Fed President Jeffrey Lacker, who for the second meeting called for a rate hike.
The Fed said that risks to the outlook remain "nearly balanced" but added that policymakers would be "monitoring global economic and financial developments."
However, the central bank did downgrade concern about China and emerging markets from the September statement.
Upcoming economic indicators, including two employment reports, will be key ahead of the next Federal Open Market Committee meeting that ends on Dec. 16.
The data flow starts right away. On Thursday, the government will release its first estimate of third quarter gross domestic product. Economists surveyed by MarketWatch expect the economy to slow to a 1.8% annual rate from 3.9% in the second quarter.
Gregory Daco, head of U.S. macroeconomics at Oxford Economics, said he would be shocked if the Fed did not hike rates in December.
He said the language is written in a way that the upcoming data "almost doesn't matter."
____________________________________________________________________________
This is week+ old but worth reading, while the feds show lack of confidence, THIS IS GOOD NEWS FOR SELLERS AND BUYERS NO INTEREST RATES CHANGES
By Amy Caculo
Yesterday the Federal Reserve announced that it would keep short-term interest rates near zero, a forgone conclusion for industry insiders, and a decision that proved that officials still lack confidence in the US economy. Rates have remained at a near-zero level for almost seven years. Assessing the impact of a stricter financial environment, the Fed determined that the current economy lacked the strength to accommodate the change. Fed chairwoman Janet Yellen said in a news conference after the announcement from the Federal Open Market Committee that "heightened uncertainties abroad" and slow inflation has convinced the committee to wait. However, according to the Federal Reserve's projections also published yesterday, the plan to raise rates this year still stands.
Housing analysts say that if and when the Fed decides to raise interest rates, the impact on homebuyers will be minimal. In fact, a new survey of more than 2,000 adults conducted this week by Trulia suggests that homebuyers are not concerned about a rise in rates. Nearly 69% of Americans said $250,000 is the maximum price that they would be willing to pay to buy their first or next home. At this price point, an increase in rates would not turn people off from buying a home. If anything, it may slightly lower the price range in which they are looking to buy. For example, an increase of 25 basis points on a $250,000 loan raises the mortgage payment by $35, which is likely not enough to sway consumers to refrain from buying. The next possible action on interest rates could come with the Oct. 27-28 meeting, and then the Dec. 15-16 meeting.
---

AA County Fair - Sept 16 through the 20th. Entries begin on Sunday the 13th and Monday the 14th. Judging is on Tuesday the 15th DO NOT MISS IT AT THE CO GROUNDS IN CROWNSVILL

E

---

Getting your home ready to sell? Think about the return and impact of changes the marketability of your home, Will they Love it or Keep looking! A pool can turn out to be one of the worst investment in your home. Best Upgrades Kitchen and bathrooms as well as the front door! Not every "improvement will bring more money or more buyers"

---

Want a list of foreclosures? Drop me a line or text mee

Want to see how much that house is really worth this weekend? Use the link below to down load my free Home Snap App, and you can take a picture of any House and see how much it's worth.

http://www.homesnap.com/homesnap/invite/maria-avellaneda

---

---

Buyers be ready a pre-approval is a must before going out to see homes you will be in a better posiiton if you have a full approoval. Generally speaking prices are good They will go up in the Spring

---

HOW TO INCREASE YOUR CHANCES TO QUALIFY FOR A MORTGAGE-

Debt Ratio:

A WOOPING 30% of your FICO score is calculated based on your debt ratio. Debt ratio is the relative value of the amount of revolving credit (i.e. credit cards) owed in relation to the amount of available credit. For instance, if your credit limit is $10,000 and your current balance is $2,000, your debt ratio would be 20%. While, ideally, you would have your debt ratio at 30%, we usually recommend you are at 10% or lower. I explain to your client that the FICO software ranks his or her credit debt based on levels. If your client's credit card debt is more than 75% of your credit limit, it will cause serious damage to the credit score. The next limit begins at 50%, then 25%.

---

The Anne Arundel (AA) CO Mortgage Assistance Program has money available to help yo buy your home. The Mortgage Assistance Program provides deferred repayment loans up to $20,000 to first time home buyers in AA coy to help with down payment and settlement costs. Eligible participants must be graduates of the ACDS Home ownership Counseling Program and may not have an household income greater than 80% of the area median income. MAP funds are available on a first come, first serve basis. Call MEe today to see if you qualify!

---

The Federal Housing Administration (FHA) reduced If annual mortgage insurance premiums by 0.5 percentage point from 1.35 percent to 0.85 percent.

What does this mean?
For the typical first-time home buyer, this reduction will translate into a $900 reduction in their annual mortgage payment. Existing homeowners who refinance into an FHA mortgage will see similar reductions to their mortgage payments as well.

---

CONVENTIONAL & FHA LOAN LIMITS

ANNE ARUNDEL COUNTY $494,500 BALTIMORE CITY $494,500

BALTIMORE COUNTY $494,500 CALVERT COUNTY $625.000 CARROLL COUNTY $494,500 HARTFORD COUNTY $494,500 HOWARD COUNTY $494,500 PRINCE GEORGE CO $625,500 MONTGOMERY COUNTY $625,500
$$$$$$$$$$$$$$$$$$$$$$$$$$$$$$$$$$$$$$$$$$$$$$$$$$$$$$$$$$$$$$$$$$$$$$
---
Any house can be sell at any time of the year under the right conditions: The Winter is a Great time to sell for 2 good reasons, 1-less competion, 2- buyers a re more serious about buying soon. This is better if your home stands out is priced properly and marketed correctly. Want to know the sellers cardinal sins! ! Call or text me to sell, buy or invest! Cel 908-240-7792
.